98% of text messages are opened in 90 minutes!
Customers are 7x more likely to respond to texts vs. an email or phone call
Messaging Center
Your text messaging command center keeps all your messages and customer status in one place.
Your Departments
Text enable your current land line, add a facebook channel, or setup multiple new departments (we'll provide the number) to ensure customers reach the right spot.
Your Agents
Invite your team onto textline and work together to respond to customers. Agents both in and out of the office can respond to from the same business number.
Your Address Book
Import your current customer base or start a new one. Anyone that text messages one of your departments can be added and given the VIP treatment next time they text.
Texting with Your Customers
Emojis
Everyone knows emojis are the best part of texting. We love sending them. We love getting them. Add a little personality to your messages.
Attachments
Use attachments to send pictures, forms, and other documentation to your customers quickly and easily, right from your desktop to their phone.
Respond from Anywhere
Stay connected with multiple devices, Desktop or Mobile. No new hardware or software needed!
Improve your internal process
Whispers
Textline allows for internal discussion within the chat flow. Your team can discuss next steps on handling customers, or even offer internal feedback for customer support training.
Claiming / Transfers
Conversations can be transferred/assigned to other team members that might be more specialized to handle particular customer requests.
Reminders
Set Reminders for individual Conversations, so you can remind yourself to follow up with a customer or perform a task related to the Conversation.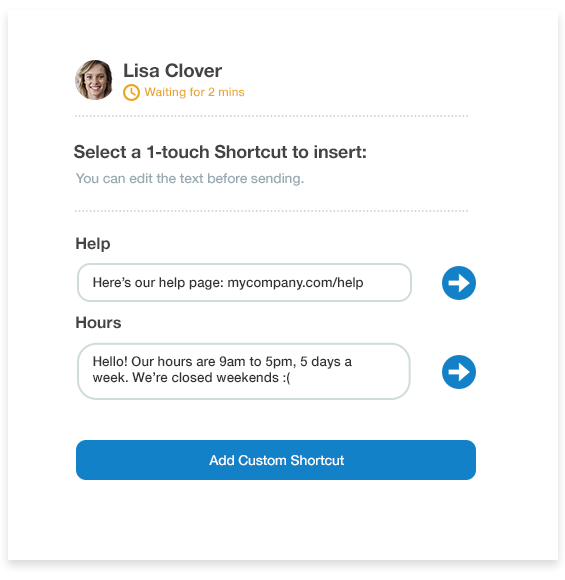 Shortcuts
Create custom shortcuts to speed up your workflow. Selecting a shortcut automatically injects your shortcut text allowing you to quickly answer repeat questions or reference important information.
Schedule Messages
Textline allows you to compose outbound messages and schedule them to be sent at a later time and day.
Auto Responder
Keyword Responses send immediate messages to contacts who text you with specific words or phrases. Include text, a link, or even automatically attach a PDF!
Manage as a Team
All your connected agents get notifications / text messages when a customer texts your Textline number. Active agents can follow the conversation and step in whenever necessary.
Group Announcements
Send non-marketing texts to multiple, specifically tagged, or all your customers at once!
Net Promoter Scores
Net Promoter Scores are a proven way to understand customer loyalty with one ultimate question. Reach your customers directly with mobile NPS surveys via text messaging.
Integrations with tools you use
Integrate with Slack, Zendesk, Zapier and Help Scout for better business texting.
Textline's integration with Slack allows you receive Textline notifications conveniently within Slack, while you communicate daily with your team.
Start your 14 Day free trial
No Credit Card Required